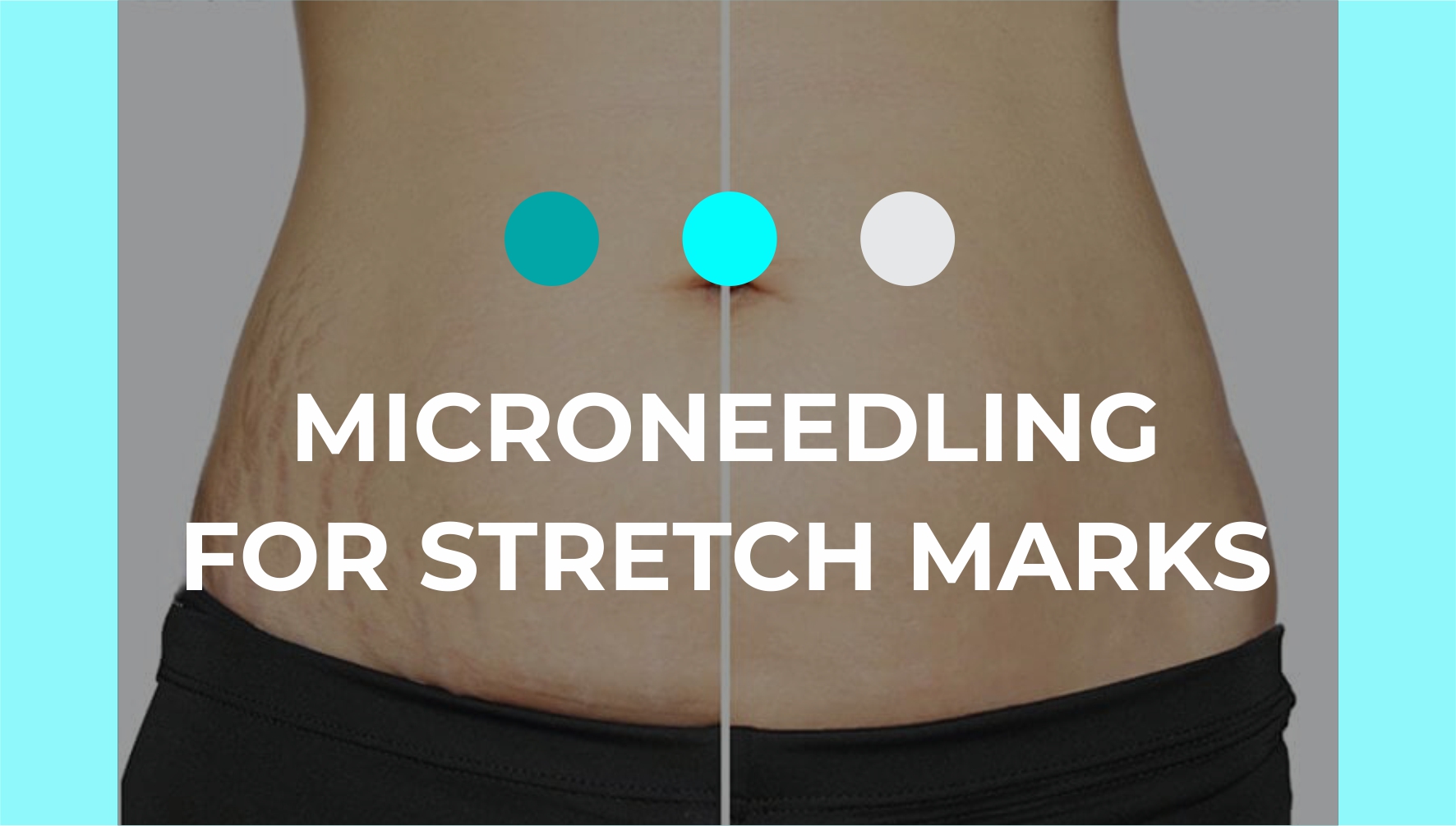 Are DermaRollers Effective for Stretch Marks?
So you've got some stretch marks? An estimated 80 percent of people have stretch marks, which are often caused by weight changes, rapid growth, hormonal changes and pregnancy. Well, if you're looking for a minimally invasive treatment that works, read on.
Dermarollers are extremely effective treatment for reducing and eliminating stretch marks – old and new. The minimally invasive treatment involves a series of rolling tiny, fine needles over the skin, creating micro-injuries that trigger new collagen and elastin that promotes skin healing and new skin tissue. The result is smoother, younger-looking skin.
At home microneedling can be done with a dermaroller, a skin tool containing hundreds of tiny needles. It creates micro-injuries in the skin sending collagen and elastin production into overdrive to compensate as the skin heals.
How Does Dermarolling Work?
Dermarolling or microneedling increases the production of collagen & elastin by causing trauma to the skin.
Collagen is an essential protein that helps keep the skin looking youthful, smooth, firm, and elastic.
Free radicals, inflammation and stress cause ageing and the decline of collagen in the skin, contributing to wrinkles and other signs of ageing.
Loss of collagen in the skin is also caused by injuries, such as acne scarring, stretch marks, or other scars.
It is important to note that dermarolling is not a quick fix, as the skin needs time to heal and renew. It normally takes 30 days to notice a difference and up to 9 months to see the full results of your dermaroller treatment depending on the condition treated.
DermaRoller Needle Lengths for Stretch Marks
When it comes to treating stretch marks with a dermaroller, choosing an accurate needle length is crucial to getting great results.  For light stretch marks you'll want a 1mm dermaroller (performed every 2 weeks), moderate stretch marks a 1.5mm (performed every 4 weeks), and for severe stretch marks a 2mm dermaroller (performed every 6 weeks).
How Long Does Skin Renewal Take?
Using a dermaroller too often, will not give you better results. Why? Because the skin needs time to heal. Depending on your age, your skin cells renew every 24 to 80 days. The skin needs time to recover from each dermarolling session to heal and build collagen. The skin renews and build new collagen for about 40 days after dermarolling. Take this into consideration when deciding on how often to use your dermaroller.
How Many Treatments are Needed for Stretch Marks?
Dermarolling or microneedling for stretch marks will need at least two to three treatments to see a good improvement. In most cases, four to six treatments yield the best results depending on the severity of your stretch marks. Treatments are ideally three to four weeks apart.
Is Dermarolling Painful?
Whether or not a dermaroller treatment is painful is completely dependent on the length of the needles. Dermaroller needles range from 0.2mm to 3mm. The 0.2mm and 0.3mm's needles are short so don't pierce the skin deep enough to hurt, but they also don't give much results as they cannot stimulate collagen in the skin. The 0.5mm dermaroller is on the pain threshold as some find it tolerable and others painful. Numbing cream is definitely advised for needle lengths 1.0mm and above on the face and 1.5mm on the body (many people prefer not to use numbing cream on the body). It is not advised to apply numbing cream on large areas of skin. If numbing cream is used on the body, treat smaller sections of skin on different occasions for example half the stomach on one day and the other half on the next day or following week. Longer needle lengths might also draw pinprick blood spots, but nothing to be frightened off. It shows that you have used the correct rolling pressure or depth.